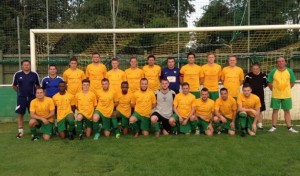 Abingdon Town F.C. is a football club based out of Abingdon, Oxfordshire in England. They play in the North Berks Football League Division One and is affiliated with the Becks & Bucks Football Association. Their biggest rivals are Abingdon United.
They play all their home matches at Culham Road, Abingdon.
They ground had been purchased for 300 pounds and has been rotated 90 degrees from its original position. They were forced to vacate the ground for an entire season while this was being done and played their home games elsewhere.
The ground can hold as many as 2000 supporters at any time.
They have won the premier division of the Hellenic Football League on 4 occasions and have also won the Isthmian league once. They have reached the 4th qualifying round of the FA Cup on 3 occasions as well.
Their highest recorded victory is against Crown & Manor with a score of 13-0. Their biggest lost came against Bletchley Town 0-9.
Five England internationals have played for this team in the past, Joey Beauchamp, Dean Whitehead, Maurice Owen, Howard Forinton and Jermaine McSporran.
The team is being managed by Gavin Jones and Tom Larman is their chairman.
The club faced a lot of trouble off the pitch in recent seasons and decided to relegate themselves to the North Berks Football League.
The club was formed back in 1870 as Abingdon FC. But it was only in 1928 when they changed their name to what they are known today, Abingdon Town FC.